Free Piano Sheets of Elvis Costello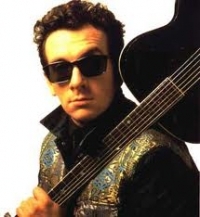 Elvis Costello (born Declan Patrick MacManus, 25 August 1954) is an English singer-songwriter. He came to prominence as an early participant in London's pub rock scene in the mid-1970s and later became associated with the punk/New Wave genre. Steeped in word play, the vocabulary of Costello's lyrics is broader than that of most popular songs. His music has drawn on many diverse genres; one critic described him as a "pop encyclopedia", able to "reinvent the past in his own image".
Costello has won multiple awards in his career, including a Grammy Award, and has twice been nominated for the Brit Award for Best British Male. In 2003, Elvis Costello & the Attractions was inducted into the Rock and Roll Hall of Fame. In 2004, Rolling Stone ranked Costello number 80 on their list of the 100 Greatest Artists of All Time.
Share this with your friends
There are no sheets found..


The free piano sheet music is provided for personal enjoyment only, not for resale purposes. If you are one of the artists and not happy with your work being posted here please contact us so we can remove it.

Latest Sheets
Here are the latest free piano sheets..
Mailing List
Subscribe to mailing list and get notified of updates.



Latest Sheets Feed


Popular Sheets Feed


Follow us on Facebook