Free Piano Sheets of Eiffel 65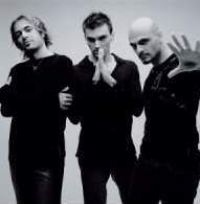 Eiffel 65 was an Italian eurodance/italodance three-piece group, formed in the late 1990s and best known for their international hit "Blue (Da Ba Dee)". Their other hit singles include "Move Your Body" and "Too Much of Heaven", all of which appeared on their album Europop, released in late 1999. The name "Eiffel" was chosen randomly by a computer program and the "65" was scribbled onto their name on a demo by mistake; it was actually part of a phone number. Eiffel 65 achieved rare success in the US. Their debut single became a top ten hit and their album a top five placing and sold over two million units. No other Italian pop or dance group before or since has ever achieved such sales in the USA.
Share this with your friends
Piano Music Sheets of Artist
Total 1 result(s), listing between 0 - 1.


The free piano sheet music is provided for personal enjoyment only, not for resale purposes. If you are one of the artists and not happy with your work being posted here please contact us so we can remove it.

Latest Sheets
Here are the latest free piano sheets..
Mailing List
Subscribe to mailing list and get notified of updates.



Latest Sheets Feed


Popular Sheets Feed


Follow us on Facebook