Free Piano Sheets of NSYNC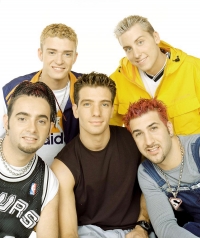 'N Sync (often stylized NSYNC) was an award-winning Grammy nominated musical group. The group's launch to fame was financed by the fraudulent boy band mogul Lou Pearlman. In 2001, Rolling Stone magazine named 'N Sync "the biggest band in the world", and since 1995, 'N Sync has sold over 56 million records worldwide.

Formed in Orlando, Florida in 1995, the group consisted of Justin Timberlake, JC Chasez, Lance Bass, Joey Fatone and Chris Kirkpatrick. After heavily publicized legal battles with their former manager Lou Pearlman and former record label Sony BMG, the group's 2000 album No Strings Attached sold 1.1 million copies in one day and 2.4 million copies in one week, giving it the highest first week album sales ever in US and #5 worldwide, and their 2001 album, Celebrity, holds the record for the second-highest first full week of sales. In addition to a host of Grammy nominations, 'N Sync has performed at the Academy Awards, the World Series, the Super Bowl and the Olympics, and sang or recorded duets with the likes of Aerosmith, Mary J Blige, Britney Spears, Nelly, Michael Jackson, The Jackson Five, Stevie Wonder, Celine Dion, and Gloria Estefan. The group also appeared as themselves on The Simpsons, in an episode entitled "New Kids on the Blecch", which aired on February 25, 2001.

While 'N Sync announced a "temporary hiatus" in spring 2002, the band has not recorded new material since. The group's official website shut down in summer of 2006, and in 2007, Lance Bass confirmed that the group has "definitely broken up."
Share this with your friends
Piano Music Sheets of Artist
Total 2 result(s), listing between 0 - 2.


The free piano sheet music is provided for personal enjoyment only, not for resale purposes. If you are one of the artists and not happy with your work being posted here please contact us so we can remove it.

Latest Sheets
Here are the latest free piano sheets..
Mailing List
Subscribe to mailing list and get notified of updates.



Latest Sheets Feed


Popular Sheets Feed


Follow us on Facebook