Free Piano Sheets of Edward Scissorhands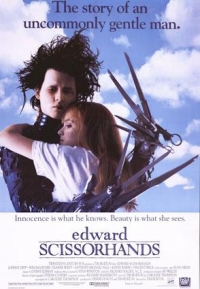 Edward Scissorhands is a 1990 comedy-drama fantasy film directed by Tim Burton and starring Johnny Depp. The film tells the story of an artificial man named Edward, an unfinished creation, who has scissors for hands. Edward is taken in by a suburban family and falls in love with their teenage daughter Kim. Supporting roles are portrayed by Winona Ryder, Dianne Wiest, Anthony Michael Hall, Kathy Baker, Alan Arkin and Vincent Price.

Burton conceived the idea for Edward Scissorhands from his childhood upbringing in suburban Burbank, California. During pre-production of Beetlejuice, Caroline Thompson was hired to adapt Burton's story into a screenplay, and the film began development at 20th Century Fox, after Warner Bros. passed on the project. Edward Scissorhands was then fast tracked after Burton's success with Batman. Before Depp's casting, the leading role of Edward had been connected to Tom Cruise, Tom Hanks, Robert Downey, Jr. and William Hurt, while the role of The Inventor was written specifically for Vincent Price.

The majority of filming took place in the Tampa Bay Area of Florida, which generated over $6 million for the local economy. Edward's scissor hands were created and designed by Stan Winston. The film is also the fourth feature collaboration between Burton and film score composer Danny Elfman. Edward Scissorhands was released with positive feedback from critics, and was a financial success. The film received numerous nominations at the Academy Awards, British Academy Film Awards, Saturn Awards, as well as winning the Hugo Award for Best Dramatic Presentation. Both Burton and Elfman consider Edward Scissorhands their most personal and favorite work.
Share this with your friends
Piano Music Sheets of Artist
Total 2 result(s), listing between 0 - 2.


The free piano sheet music is provided for personal enjoyment only, not for resale purposes. If you are one of the artists and not happy with your work being posted here please contact us so we can remove it.

Latest Sheets
Here are the latest free piano sheets..
Mailing List
Subscribe to mailing list and get notified of updates.



Latest Sheets Feed


Popular Sheets Feed


Follow us on Facebook