Free Piano Sheets of Paolo Tosti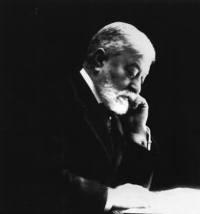 Sir Paolo Tosti (April 9, 1846 - December 2, 1916) was an Italian, later British, composer and music teacher.

Tosti's songs are characterized by natural, singable melodies and sweet sentimentality. He is also known for his editions of Italian folk songs entitled "Canti popoliari Abruzzesi". Tosti is remembered for his light, expressive songs. His style became very popular during the Belle Epoque and is often known as salon music. His most famous works are Serenata (lyrics: Cesareo), Goodbye (lyrics: George J. Whyte Mellville) which is sometimes performed in Italian as Addio (lyrics: Rizzelli), and the popular Neapolitan song, Marechiare, the lyrics of which are by the prominent Neapolitan dialect poet, Salvatore Di Giacomo.

As a composer, Tosti is exceptional. Since the beginning of the recording era, numerous recording artists specializing in classical Italian repertoire have recorded Tosti songs, yet Tosti never composed opera. Notable examples on recording include Alessandro Moreschi (the only castrato who ever recorded) singing "Ideale", Nellie Melba singing "Mattinata" and Jussi Bjorling singing "L'alba separa dalla luce l'ombra".

Share this with your friends
Piano Music Sheets of Artist
Total 1 result(s), listing between 0 - 1.


The free piano sheet music is provided for personal enjoyment only, not for resale purposes. If you are one of the artists and not happy with your work being posted here please contact us so we can remove it.

Latest Sheets
Here are the latest free piano sheets..
Mailing List
Subscribe to mailing list and get notified of updates.



Latest Sheets Feed


Popular Sheets Feed


Follow us on Facebook