Free Piano Sheets of Schubert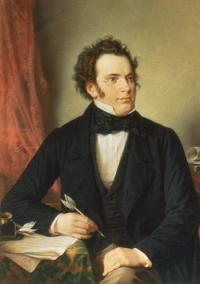 Franz Peter Schubert (January 31, 1797 – November 19, 1828) was an Austrian composer. He wrote some 600 lieder, nine symphonies (including the famous "Unfinished Symphony"), liturgical music, operas, and a large body of chamber and solo piano music. He is particularly noted for his original melodic and harmonic writing.

While Schubert had a close circle of friends and associates who admired his work (including his teacher Antonio Salieri, and the prominent singer Johann Michael Vogl), wider appreciation of his music during his lifetime was limited at best. He was never able to secure adequate permanent employment, and for most of his career he relied on the support of friends and family. Interest in Schubert's work increased dramatically in the decades following his death and he is now widely considered to be one of the greatest composers in the Western tradition.

While he was clearly influenced by the Classical sonata forms of Beethoven and Mozart (his early works, among them notably the 5th Symphony, are particularly Mozartean), his formal structures and his developments tend to give the impression more of melodic development than of harmonic drama. This combination of Classical form and long-breathed Romantic melody sometimes lends them a discursive style: his 9th Symphony was described by Robert Schumann as running to "heavenly lengths". His harmonic innovations include movements in which the first section ends in the key of the subdominant rather than the dominant (as in the last movement of the Trout Quintet). Schubert's practice here was a forerunner of the common Romantic technique of relaxing, rather than raising, tension in the middle of a movement, with final resolution postponed to the very end.
Share this with your friends
Piano Music Sheets of Artist
Total 5 result(s), listing between 0 - 5.


The free piano sheet music is provided for personal enjoyment only, not for resale purposes. If you are one of the artists and not happy with your work being posted here please contact us so we can remove it.

Latest Sheets
Here are the latest free piano sheets..
Mailing List
Subscribe to mailing list and get notified of updates.



Latest Sheets Feed


Popular Sheets Feed


Follow us on Facebook