Free Piano Sheets of Quest for Camelot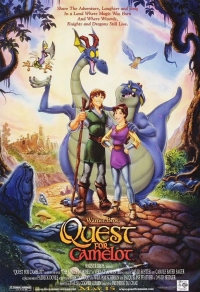 Quest for Camelot is an animated feature from Warner Bros. Animation, released in 1998. It was retitled The Magic Sword in Asia and The Magic Sword: Quest for Camelot in the UK. In France, the movie was titled Excalibur l'épée magique what can be translated Excalibur the magic sword. It is based on the novel The King's Damsel by Vera Chapman and was shot in Austin, Texas.

The movie is about a young girl named Kayley who wants to be a knight of the Round Table in Camelot like her father; Sir Lionel, a blind man named Garrett who wishes only to be left alone, and their quest to find Excalibur.

Quest for Camelot: Music from the Motion Picture is the soundtrack to Warner Bros.' 1998 theatrical animated feature Quest for Camelot. It contains songs from the film performed by various artists, and selections of the film's score composed by Patrick Doyle and David Foster. The album was originally released on May 5, 1998 by Atlantic Records.

Although the film was not a critical or commercial success, the soundtrack did receive a certain level of praise. The album peaked at #117 on the Billboard 200, and won the Golden Globe Award for Best Original Song for "The Prayer", and was also nominated for the Academy Award for Best Original Song, also for "The Prayer" (though it lost the latter to "When You Believe" from Dreamworks' The Prince of Egypt).
Share this with your friends
Piano Music Sheets of Artist
Total 1 result(s), listing between 0 - 1.


The free piano sheet music is provided for personal enjoyment only, not for resale purposes. If you are one of the artists and not happy with your work being posted here please contact us so we can remove it.

Latest Sheets
Here are the latest free piano sheets..
Mailing List
Subscribe to mailing list and get notified of updates.



Latest Sheets Feed


Popular Sheets Feed


Follow us on Facebook