Free Piano Sheets of Paolo Nutini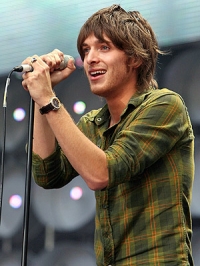 Paolo Giovanni Nutini (born 9 January 1987) is a Scottish singer/songwriter from Paisley. His father is of Italian descent, from Barga, Tuscany, and his mother is Scottish, although his father's family has been in Scotland for four generations.

Paolo Nutini was signed to Atlantic Records in May 2005, shortly after his 18th birthday. He released his first single "These Streets" as a free download in May 2006, this was then followed by his next single "Last Request" which was released on 4 July 2006 and charted at #5 in the official UK charts. In the video for "Last Request", Nutini plays the part of a robber - though this is not revealed until the end. Nutini's third single, "Jenny Don't Be Hasty", was released on 25 September 2006 and got to #20 on the UK Singles Chart. "Rewind" was Nutini's fourth single. It was released on 4 December 2006, and reached #27 in the UK.

His debut album These Streets, produced by Ken Nelson (Coldplay/Gomez), was released on 17 July 2006 and immediately entered the UK album charts at #3. Many of the songs on the album, including "Last Request" and "Rewind", were inspired by a turbulent relationship with his current girlfriend, Teri Brogan, and "Jenny Don't Be Hasty" is a true story about encounters with an older woman. These Streets, as Paolo himself puts it on his official website, he states, "The album is a little glimpse of some of the experiences I have been through in the last three years".
Share this with your friends
Piano Music Sheets of Artist
Total 1 result(s), listing between 0 - 1.


The free piano sheet music is provided for personal enjoyment only, not for resale purposes. If you are one of the artists and not happy with your work being posted here please contact us so we can remove it.

Latest Sheets
Here are the latest free piano sheets..
Mailing List
Subscribe to mailing list and get notified of updates.



Latest Sheets Feed


Popular Sheets Feed


Follow us on Facebook