Free Piano Sheets of Scorpions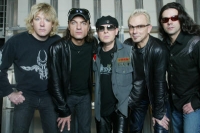 Scorpions are a hard rock/heavy metal band from Hannover, Germany, best known for their 1980s rock anthem "Rock You Like a Hurricane" and their singles "Wind of Change", "No One Like You", "Still Loving You", and "Send Me an Angel". The band has sold over 70 million records worldwide.

Rudolf Schenker, the band's rhythm guitarist, set out to find a band in 1965. At first, the band was school-kind with beat influences and Schenker himself on vocals. Things began to come together in 1969 when Schenker's younger brother Michael and vocalist Klaus Meine joined the band. In 1972 the group recorded and released their debut album Lonesome Crow with Lothar Heimberg on bass and Wolfgang Dziony on drums. During the Lonesome Crow tour, Scorpions opened for upcoming British band UFO. At the end of the tour the members of UFO offered guitarist Michael Schenker the lead guitar job; an offer which he soon accepted. Uli Roth was then called in temporarily to finish off the tour.

The departure of Michael Schenker led to the break up of the Scorpions. In 1973, guitarist Uli Roth, a friend of the Schenker brothers, was in a band called Dawn Road. He had been offered the role as lead guitarist in Scorpions after Michael Schenker's departure but turned the band down. Rudolf decided that he wanted to work with Roth but did not want to resurrect the last Scorpions lineup.

Rudolf Schenker attended some of Dawn Road's rehearsals and ultimately decided to join the band, which consisted of Roth, Francis Buchholz (bass),Achim Kirschning (keyboards) and Jurgen Rosenthal (drums).
Share this with your friends
There are no other sheets found..


The free piano sheet music is provided for personal enjoyment only, not for resale purposes. If you are one of the artists and not happy with your work being posted here please contact us so we can remove it.

Latest Sheets
Here are the latest free piano sheets..
Mailing List
Subscribe to mailing list and get notified of updates.



Latest Sheets Feed


Popular Sheets Feed


Follow us on Facebook